6 Mins read
What is WordPress? And how your business can benefit
So, what is WordPress?
Often a misunderstood question, but what is WordPress? In the simplest form, WordPress is the most popular Content Management System (CMS) in the world. WordPress is one of the easiest and most powerful blogging and website creation tools on the market.
For the technical minds, WordPress is an open-source CMS licences under GPLv2, which essentially means anyone can use or modify the software for free. A CMS is a tool that makes it extremely easy to manage important aspects of a website, such as content – without the extensive knowledge of programming.
As of 2020, WordPress powers 39.6% of the internet, a 5% rise from 2020.
Where did it all start?
WordPress was created in 2003, when existing blogging software b2/cafelog was discontinued. Two users Matt Mullenweg and Mike Little decided to fork the software and build a new platform on top of b2/cafelog.
The due started a journey that would come to benefit millions around the world and create an industry of it owns. If you're interested in the complete history of WordPress, read more on the complete history of WordPress.
What exactly is a WordPress website?
A WordPress website is any website that uses WordPress as it's CMS, powering both the frontend (the public-facing side of the website) and backend (the user-interface used to change and update content) of the website.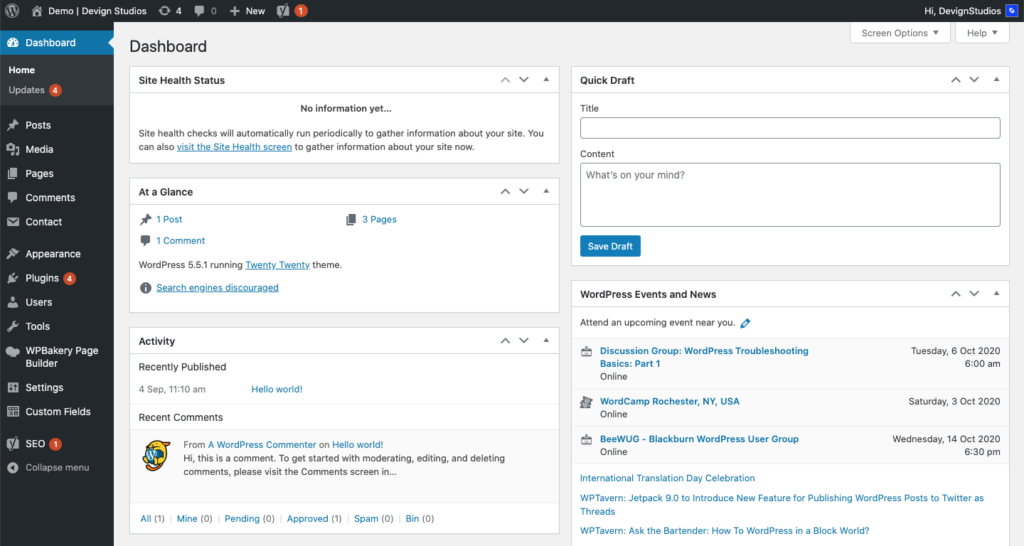 WordPress originated as a tool primarily used to create a blog rather than a traditional website, but that has not been the case for a very long time. As WordPress grew in popularity, the ecosystem of plugins and themes that would be created meant anybody could create any type of website with WordPress.
The growth of WordPress meant that anyone could build any type of website, here just are a handful:
Blog – A blog is a website dedicated to sharing ideas, thoughts, reviews and any other informational content to an audience; typically listing the most recently-published content first.
e-Commerce – An e-Commerce website provides you with the tools required to sell goods or services online and make payment online to streamline your workflow. The most popular e-Commerce plugin for WordPress is WooCommerce.
Membership – Membership sites allow you to place your content behind a payment or login, essentially online providing access to those who have paid to view the content your offering.
Events – If you plan on hosting events, WordPress makes it extremely easy to post your event details and event sell-tickets and collect payment directly from your website.
e-Learning – WordPress boasts an extremely popular choice for Learning Management System's (LMS) too, offering functionality to take online courses, track progress, download resources and much more, right from your own website.
It comes as no surprise that the possibilities are endless when it comes to using WordPress for your next website solution.
How WordPress can benefit you or your business?
WordPress boasts some amazing features and benefits that anyone creating a website can take advantage of. WordPress acts as the engine powering your website, and whilst you may not notice everything WordPress does a lot for you behind the scenes:
Using WordPress, you'll see all sorts of benefits, features and traits that come out of the box with WordPress:
SEO is provided out of the box
WordPress has built an exceptional reputation for providing a rock-solid foundation when it comes to Search Engine Optimisation (SEO). Improving your SEO is a crucial part of getting more traffic to your website, and WordPress's success is partly due to the built-in features that make implementing SEO extremely easy – especially for businesses or authors who don't necessarily have the technical expertise.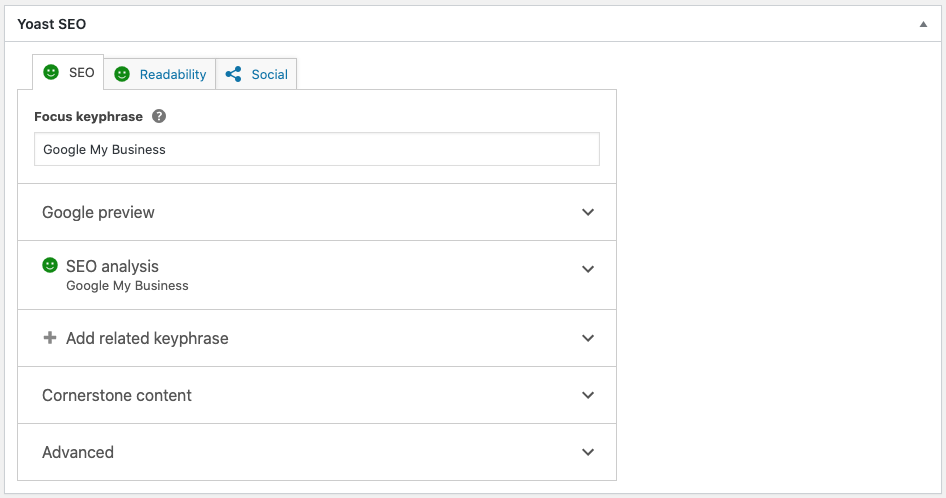 SEO can be and is technical, but WordPress makes getting started easy; with WordPress, you can:
Check and set your site's visibility settings to search-engines
Implement an SEO-friendly URL structure that is easy to read by humans and search engines.
Setup www or non-www as your preferred site URL (search engines consider these two different sites).
XML Sitemaps provided by Yoast SEO to make it easy for search engines to find all of your content.
On-page SEO titles, descriptions and content analysis optimisation tools are also available from Yoast to help you optimise your content for maximum clicks.
WordPress comes with a built-in blog
Blogging is still an area which is still thriving, and will continue throughout 2020 – if you are planning on starting a blog as a secondary tool alongside your website then WordPress has you covered.
WordPress started out as a blogging platform, with that you can utilise your very own publishing platform right out of the box.
It's open-source software:
WordPress is open-source and licensed under the GNU Public License, meaning it is not owned by any single individual, company or organisation. You can inspect, modify, and enhance the source code.
Actually, hundreds of developers contribute to the software to deliver constant improvements that are free for everyone!
It's simple and easy to use:
WordPress was built for simplicity, you can create, publish and update your content extremely quickly. The common comparison is "If you can use a Word Processor, you can use WordPress".
It really is that simple to manage your website.
You don't need to know code to manage your WordPress website
WordPress removes the need to know code from managing your website, depending on the kind of theme you use, or even if you have a custom-built theme WordPress provides the tools you'll need to manage your website without any need for code.
[Blog_Banner title="Do you need help with your WordPress website?" content="If you need any help or assistance getting your website up and running. Have a chat with us today about how we can help." button_text="Get In Touch" button_link="/contact"]
WordPress is secure
It's a topic that often caused mixed messages, but in short, the WordPress Core is secure when kept updated. As WordPress is infinitely customisable it's important you only use trusted and reputable themes and plugins on your website.
When running a WordPress website, it's best practice to use safe plugins and themes, maintain a responsible login procedure and using security plugins to monitor your site,
It's extremely powerful for developers
As simple and easy to use as WordPress is, it is an extremely powerful tool for developers to use to create more bespoke features and functionality you might not get out-of-the-box with WordPress or a Plugin.
When WordPress won't do quite what you want it to, professional WordPress developers can build custom themes or plugins to deliver the exact functionality you are looking for and not just the next best option.
Understanding if WordPress is right for you?
Considering if WordPress is the right choice for your website can be a difficult choice to make, but in the end, it is down to your requirements. If flexibility for any kind of design or functionality then WordPress is probably for you.
It's worth noting that with all it's features WordPress does come with a certain level of maintenance and updates to ensure everything is running smoothly. But having a reliable team to manage your website for you can provide the reassurance that WordPress is for you.
So… Why WordPress at all?
We've covered a lot above about what WordPress is, and why how it can benefit your business. To recap:
WordPress provides built-in SEO out of the box.
You don't need to know code to manage your website.
WordPress is a simple and secure toolkit for business websites.
We hope that the information we've shared can help you understand more about WordPress how it can help your business grow. Please share in your online circle or let us know your thoughts in the comments below.
This article was written by AshleySherwood on the 02nd October 2020 and was last updated on the 03rd March 2023.