4 Mins read
What to include on a business card?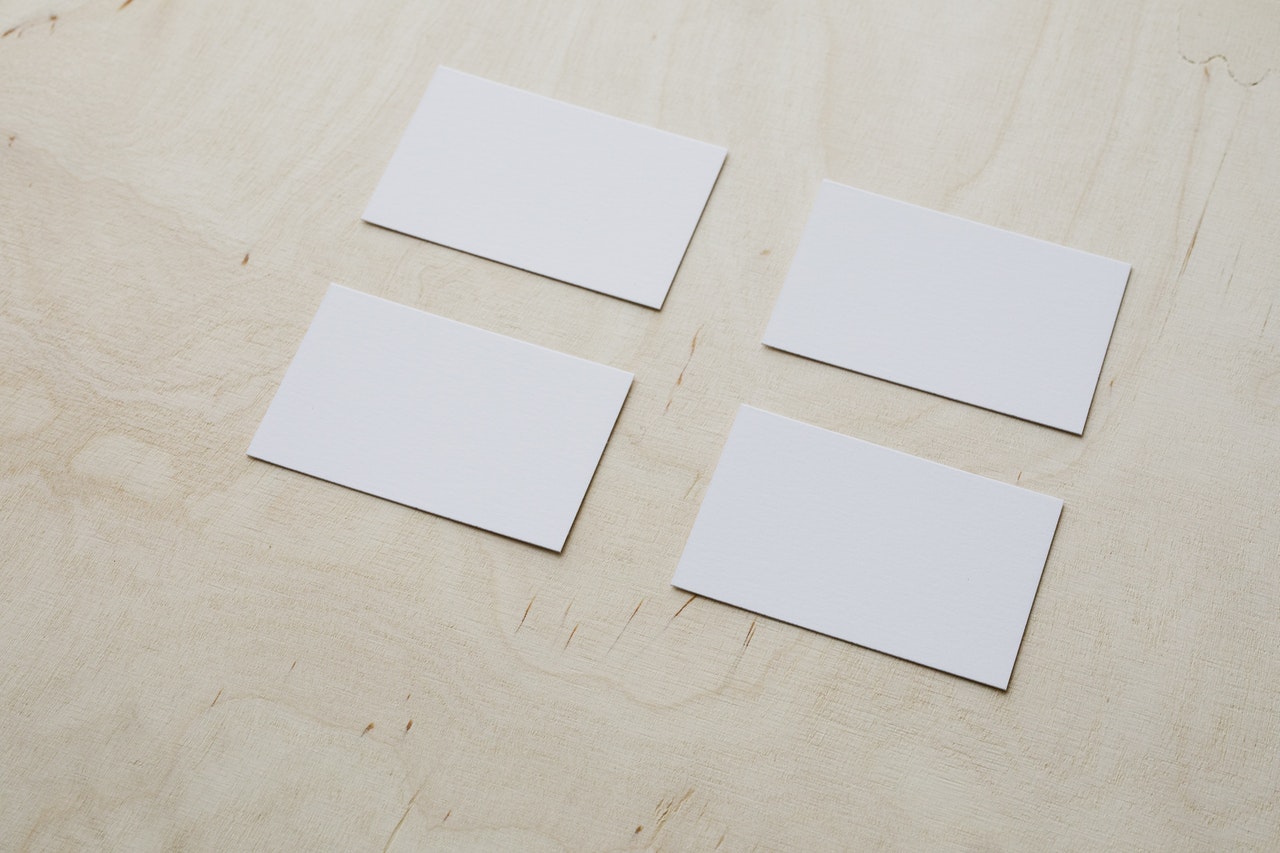 What to include on a business card? It's a tricky subject but when it comes to creating our own it's quite easy to jot our details down and leave it there. That said, if you want a business card that speaks true to you and your profession, then you'll need a little more than that.
A great business card stands out from a pile left on a desk and works a hell of a lot better than a simple slip of paper with your name and number. Your business card should give you an edge over your competition and ensure new contacts remember who you are.
So what actually makes an effective business card?
We've highlighted some of our essential creative ideas you can use to transform your business cards from a scrap piece of paper into a connection tool that draws customers to your business.
Logo and tagline
It's a must, your logo is a visual representation of your business, what you do and what you stand for. A logo makes your company feel credible, professional and trustworthy and embeds in the minds of your customers. As an extension to your brand, anyone holding your business card should be able to identify and instantly recognise wherever they may see it in the future.
Your tagline is equally as important too, try to summarise what you offer in fewer than seven words whilst focusing on the core service that you offer. A long-winded or extensive tagline can confuse your audience and they may not get the initial message straight away.
Company Name
Your company name is arguably the most important piece of information on your business card, it's the one thing that people are most likely to remember. Generally, your business name should be the largest piece of text on your business card.
Give it plenty of space and make it prominent.
Name and Job Title
Make your card personal by including your name and job title to make introductions much easier when it comes to networking. You should include the name you use professionally, and that you prefer to be addressed by – if your name is "David" but everyone knows you as "Dave" then you should use the latter on your business card.
The same principle applies for your job title too. For freelancers, entrepreneurs or small business owners you'll obviously hold a number of job roles within your business – but which one goes on your business card? Use the job title that best describes what you do at the core of your business, the job that customers will likely hire you to do.
While including CEO or Founder might make you look more impressive in the room, it can actually be really unhelpful. The next time you look at the business card and see "John – Founder of Doe Marketing", you'll be left wondering what John actually does. Are they a developer, a marketer or sales executive? Clearly stating your job title can help guide the conversation the next time you meet.
Clear, Up-to-date Contact Information
No matter the design, every business card should hold basic contact information for yourself and your business. Think of a business card with no-real information like a website that loads slowly. If you can't see it there and then you are going to move onto something else quite quickly.
The vital contact information you should be including on your business cards are:
Company or trading name.
Contact information including your email address and phone number.
What you do in three words or less – photographer, videographer, marketing manager, etc…
Your Website (but not the http:// part)
A website lets the world know you're online, it provides customers with the ability to find out more about you without having to try and find it themselves. Your business card should always include a website (that is if you have one!) – if you don't have a website, get one. A website is a vital marketing tool for your business. You don't need to include the http:// part either, it adds too much and isn't necessary when it comes to business cards.
Social Media Handles
Everyone is on social media these days and everyone knows what to look for when identifying the different social media platforms. If you actively use social media then it is a great idea to include these on your business card where possible, depending on how active you are – including dormant social media accounts may bring across the wrong message.
You can save space on your business card by using their appropriate handles rather than the full URL too, so using @devignstudiosltd rather than facebook.com/devignstudiosltd/ would really save some space.
Conclusion
We've covered quite a few points when it comes to business cards and what information they should contain. It's important to remember they are your first impression and a strong impression counts.
Your business card should give you an edge over your competition and ensure new contacts remember who you are.
Business Cards by Devign Studios
Devign Studios offer specialist Branding and Graphic Design services to individuals, businesses and organisations across the UK. We're also partnered with some leading print suppliers to ensure a quality finish and quick turnaround.
For more info about business card printing for your business, speak to us today on (+44) 7828 509 478 or email us at [email protected].
This article was written by AshleySherwood on the 27th August 2020 and was last updated on the 27th August 2020.