Top Five Tools for Technical SEO
Technical SEO is important, so having the right tools for the job is equally as important. We've highlighted our top 5 tools for technical SEO, to help you identify any technical issues that be affecting your organic search performance.

GTMetrix is a page speed analysis and reporting tool that provides quite a different view on page speed.
Diving deep into the technical aspect of website performance, providing detail on page requests, CSS and Javascript files required to load as well as an abundance of other factors to help your increase your performance. Our key features take aways are:
Get a summary of key performance indicators.
Track performance with monitoring, graphs and alerts.
Test your page from multiple regions.
Simulate devices, change screen resolution and more.
Playback page loads with videos.
Plus many more options and features! See for yourself here.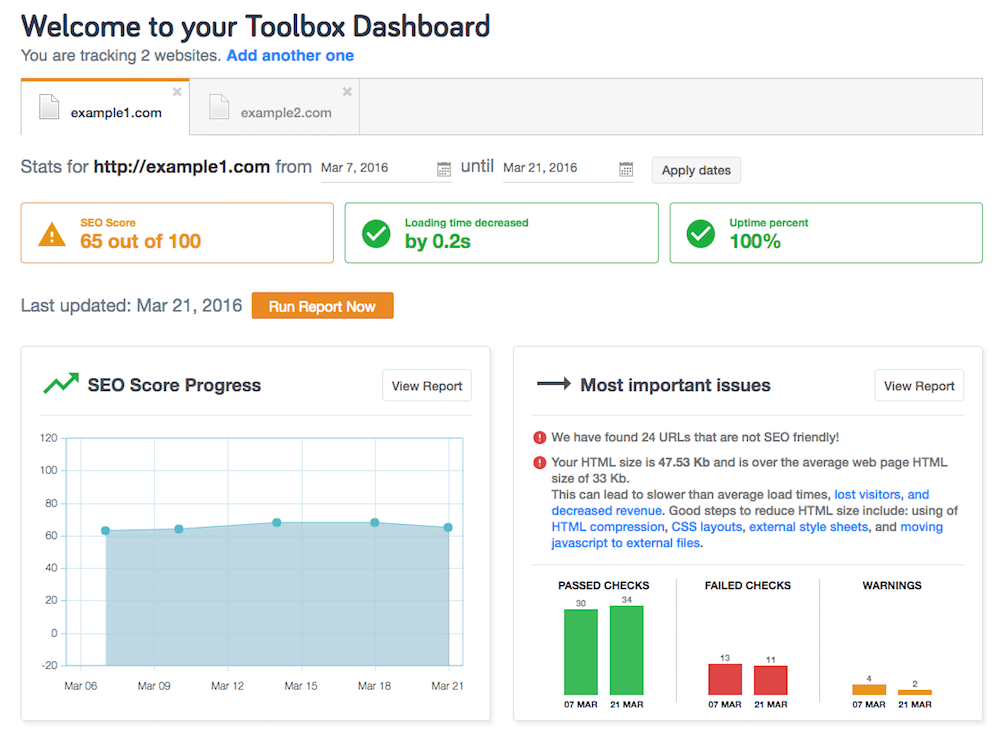 SEO Site Checkup is a combination of search engine optimisation (SEO) tool for your website, providing lots of tools for you to see how your site is performing.
Providing a complete 'SEO ToolBox', you can instantly analyse your SEO issues, understand your competitor's SEO profile, check your website's backlinks and create automated checkups. Our key highlights are:
Instantly analyse your SEO issues
Professional SEO monitoring
Understand your competitors' SEO profile
Save hours with white-label SEO reports
SEO reports you can understand and act upon
14-day free trial, cancel anytime
Lots more free tools to use! Check them all out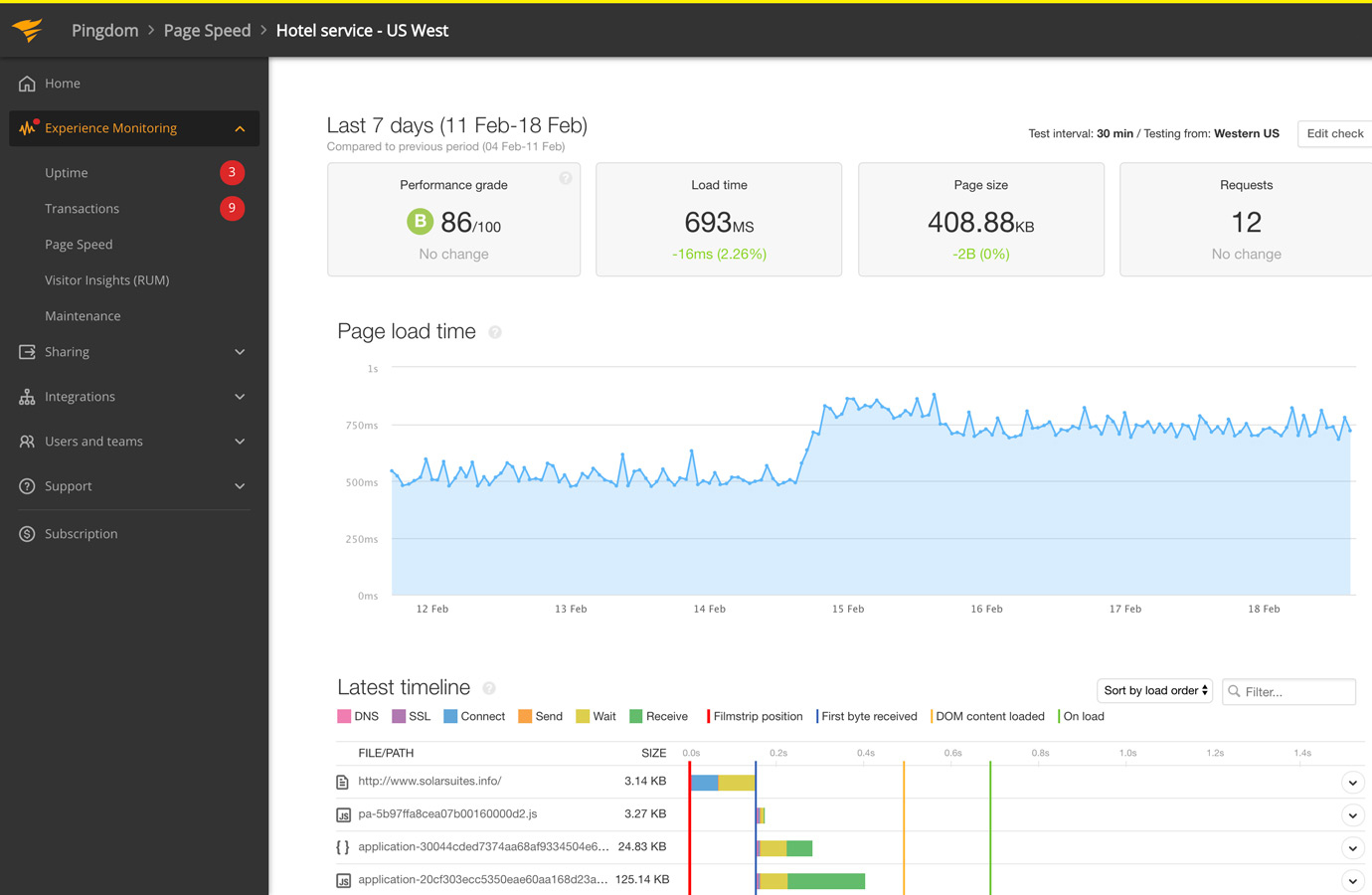 Pingdom helps make website performance monitoring easy, giving instant insight into website availability and performance. Offering synthetic and real-user monitoring provides complete monitoring for ultimate visibility.
Pingdom provides you with the ability to:
Test your site's availability from all over the world.
Effective alerting for you and your team.
Examine and optimise the load performance of your website.
Enhance your site performance with data from actual visitors.
Help ensure your most vital site interactions function smoothly.
Monitor servers and web applications.
Try free for 14 days, cancel anytime.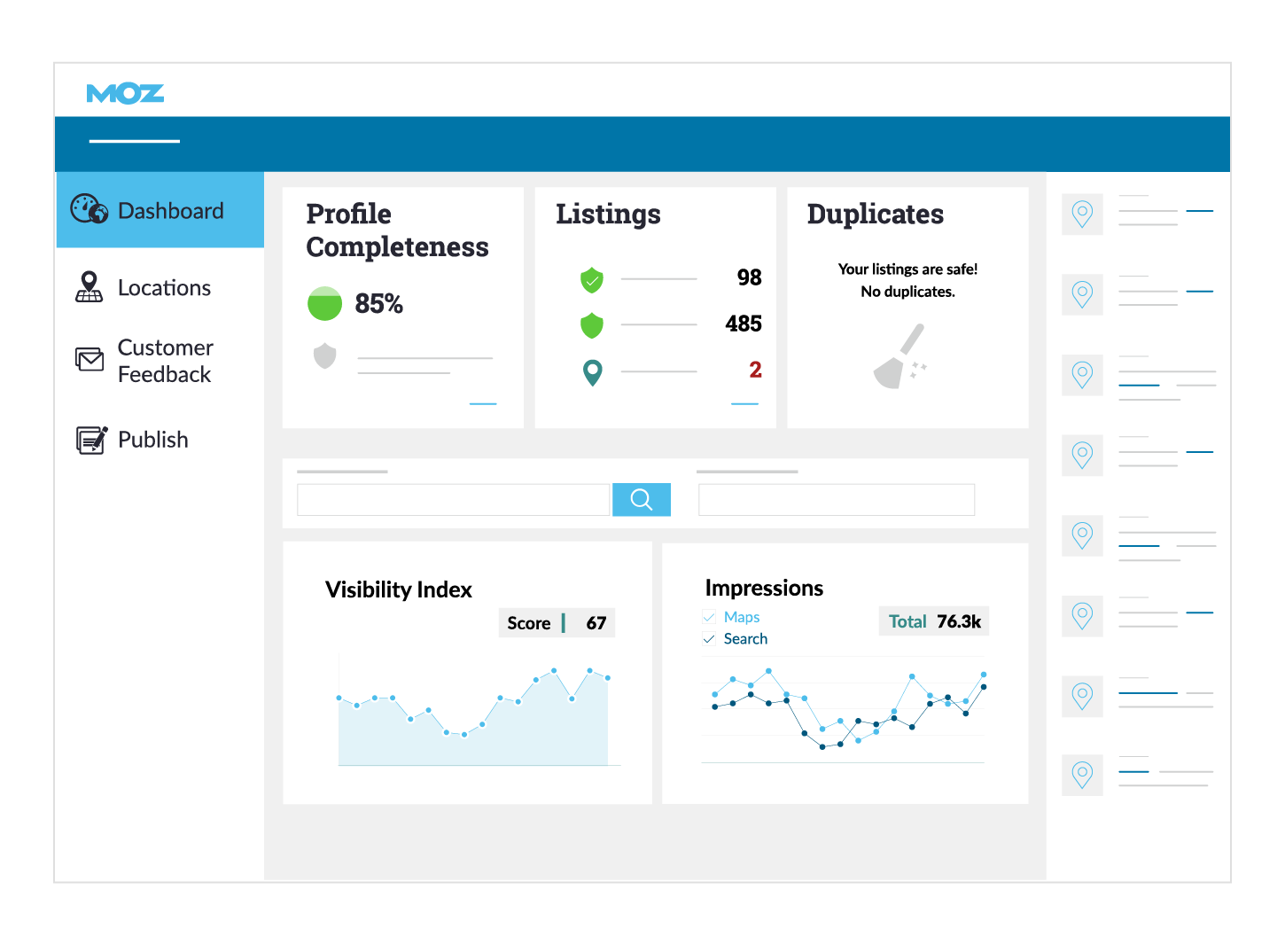 Providing SEO software and data, Moz helps you increase your rankings, visibility and traffic. Moz provides a proven, all-in-one SEO toolset in its premium product Moz Pro. Offering site audits, rank tracking, backlink analysis and keyword research being just a few features in the package.
Moz provides you with tools and resources to:
Effectively store all your keyword research in one tool.
Categorise, prioritise and compare keywords and phrases.
Prioritise the keyword metrics that really matter.
Get step-by-step guidance with on-page optimisation.
Content suggestions available to you.
Comparison of desktop vs mobile visibility.
Uncover the competitive advantages to target top positions.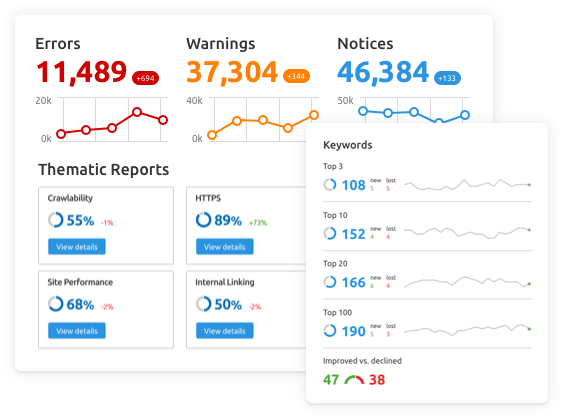 SEM Rush is an online visibility management platform, providing solutions for a whole range of tools for digital marketing professionals. Providing a complete workflow, solutions include SEO, paid traffic, social media, content & PR as well as market research.
SEM Rush can help you with tools to:
Get insights into your competitors' strategies.
Find keywords with less competition.
A set side-by-side domain comparison.
Share a schedule your reports to go out on a regular basis.
Optimise your content for your target keywords.
Track the position for any keyword.
Check site health with an SEO analysis tool.